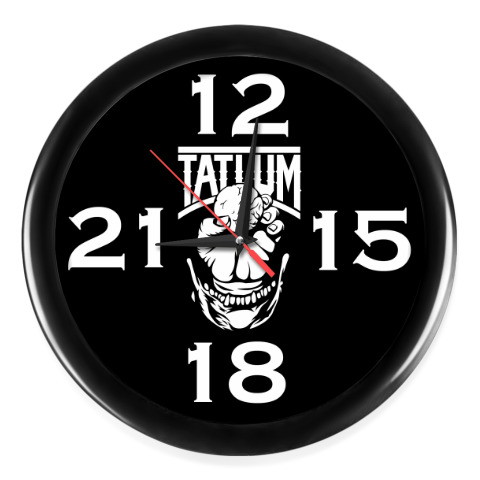 Качественные
настенные часы
, которые украсят любой интерьер любителя электронной музыки в жанре хардкор и драм энд бейс. Сами часы выполнены в виде круга черного цвета с черным овальным ободом из качественного пластикового корпуса и настоящего стекла, которое покрывает циферблат. Диаметр часов - 28,5 см, сам циферблат - 23,7 см. На тыльной стороне находится отверстие для крепления на стену. В центре часов находится новый логотип проекта Татлум, выполненный в белом цветовом монохроме. Логотип содержит кисть человека, которая находится на части черепа человека, а именно - челюсти. Рука сжимает шарик из мозга. Согласно древним кельтским легендам, шарик из мозга врага - или Татлум - это есть самое мощное оружие, которое было доступно народностям, населявшим остров Ирландия много веков назад. Над кистью с шаром находится изогнутая надпись Татлум, подчеркнутая линией. Справа, слева, вверху и внизу находятся крупные цифры, которые точно указывают время. Минутная и часовая стрелки часов - черные, а секундная - красная, подчеркивающая динамичность и скорость течения времени. Стоимость часов составляет чуть более тысячи российских рублей. Часы послужат хорошим подарком для всех, кто ценит музыку таких экстремальных жанров, как хардкор и драм энд бейс. Часы отлично украсят интерьер. Они работают от одной пальчиковой батарейки типа AA.
High-quality
wall clock that will decorate any interior
lover of electronic music in the genre of hardcore and drum and bass. The watch itself is made in the form of a circle in black colour with black oval shaped rim of the high quality plastic shell and real glass that covers the dial. The diameter of the clock is 28.5 cm, the dial - 23,7 see On the back is a hole for mounting on the wall. In the center is the new logo of the project, Tatlum made in white monochrome. The logo contains the hand of man, which is part of the human skull, namely of the jaw. Hand grasps the bulb of the brain. According to ancient Celtic legend, the bulb from the brain of the enemy - or Tatlum - this is the most powerful weapon that was available to the people who inhabited the island of Ireland many centuries ago. Over brush with a ball is the curved inscription, Tatlum, accented by line. Left, right, top and bottom are large numbers that precisely indicate the time. Minute and hour hands of the clock are black and the second hand is red, emphasizing the dynamism and speed of flow of time. The cost of the watch is just over a thousand Russian rubles. The watch will be a good gift for anyone who appreciates the music of such extreme genres like hardcore and drum and bass. Watch will perfectly decorate the interior. They work on one finger-type batteries AA.